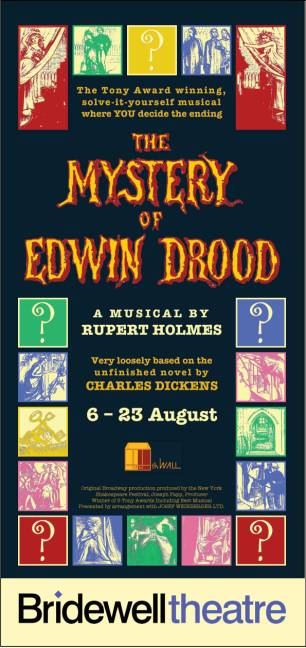 An evening of music, comedy, suspense and pure entertainment!
It is the late nineteenth century. The Music Hall Royale is presenting
the premiere performance of its musical comedy drama based
VERY loosely upon the last novel by Charles Dickens.
Unfortunately, as we are to discover, the book is unfinished.
From the point at which Dickens puts down his pen forever, you,
the audience take over. You must decide whether a crime has been
committed, if so, who did it, and, to guarantee that you all go home
happy, which of the characters will finish the play as lovers.
The Company must learn up to 500 possible endings in order to
perform whichever variety of conclusions you vote for.
Subtle - and not so subtle - measures will be taken as the Players each
try to ensure they have a stab at being villain (or hero).
Ultimately, though, the choice is YOURS.
Kick off your boots, loosen your corsets...and enjoy yourselves!
(The Chairman of the Music Hall Royale)